Friday, May 5th at 7PM
Cape May Stage, 405 Lafayette St.
The very idea of African Americans enjoying leisure spaces alongside whites was a challenge during the Jim Crow era because it implied Equality. Out of necessity, African American activists and businesspeople created their own beach communities. "Black Footprints on White Sands: Historical African American Beaches and Resorts" explores the past and provides an update on where the imprints touch down now and why.
Presented by Cape May MAC in association with Chase Jackson, and hosted by Cape May Stage.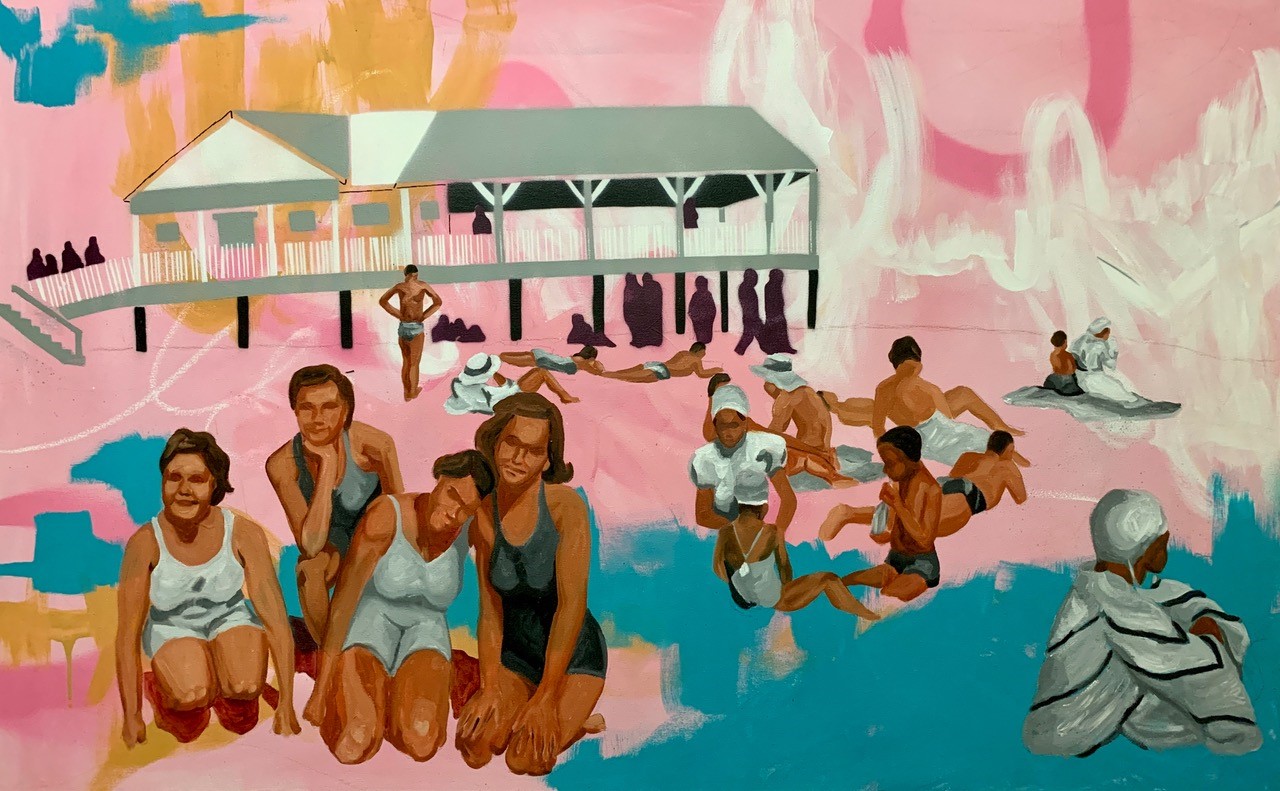 "Good Times at Grant Street" by Chanelle Rene
Two works by local artist Chanelle Rene will be displayed and for sale at this event. Chanelle René is an award winning, self-taught artist who embraced painting as self-care during the 'pandemic pause'; transitioning from a 20+ year career in digital marketing to professional artist. Her work has been exhibited nationally and internationally including: Smithsonian Institution Traveling Exhibition, Noyes Art Museum, Cape May MAC, The Curator's Salon and Ocean City Arts Center as 2021 Best of Show winner. Born in West Cape May, René currently works out of her home studio in Middle Township, Cape May County.
About the Grant Street Beach Series
Grant Street Beach' journeys the segregated beach of Cape May, New Jersey. Working from artist Chanelle Rene's own family photographs and other Black families, these works depict joyful everyday moments of African-American beach goers in Cape May from the 1920s through the 1960s. Energetic mark making in stark contrast with detailed figures dressed in dual-tone color done in oil and mixed media allow the past to speak to the present. Each work explores the complexity and nuance of the human spirit while celebrating generations of Black beach goers as they transition from segregation to making Grant Street Beach a tradition of choice.
About the Presenter:
Chase Jackson is an arts administrator and a community arts activist. She believes that even though the arts can be created for aesthetic and intellectual purposes and judged for beauty and meaningfulness, she also feels that the arts can also be used as an educational, motivational and economic development tool as well as a tool for cross cultural communication and interactions. Currently, Chase is the executive director of Ocean City Arts Center. She holds a BS in accounting from Elizabeth City State University and a certificate in arts administration from UNC Kenan–Flagler Business School, Chapel Hill. She has 40+ years in non-profit management. Chase is an accomplished storyteller, producer, director, actor and blues belter. She is on the steering committee of the Creating Change Network, a program hosted by New Jersey Theatre Alliance and ArtPride New Jersey that aims to build a more equitable, just, and anti-racist arts community in New Jersey.
On a more artistic note, a Blues fanatic, she was the manager of national recording artists, Saffire-the Uppity Blues Women, on the Alligator label. She has also performed under the name of Miz Mamie with her own band, the wRight Blues Band in Red Bank, NJ and as a featured vocalist with De Gut Bucket Blues Band in Norfolk, VA.
Chase is the co-founder of the Natchel' Blues Network (NBN), a blues society based in Norfolk, VA. Chase is an experienced sailor and a tall ship lover and advocate. She serves on the board of Tall Ships American, a national organization working with tall ship operators, host ports, crew, and corporate sponsors to focus on youth education, leadership development and preservation of the maritime heritage of North America. She still sails whenever, wherever and on whatever she can.
During her time in Cape May County, she has produced numerous plays, story and poetry slams through her production company, ChaseArts, as well as been active with several local non profits as a consultant and volunteer.