Hop on one of Cape May MAC's cheery red trolleys and take a guided tour the easy and comfortable way. Knowledgeable guides will tell you everything you want to know about America's first seaside resort, from our Victorian heritage to our seashore and maritime history and more, with plenty of fun facts sprinkled in.
MANY TROLLEY TOURS ARE OFFERED SEASONALLY
Accessible trolley tours are available but must be pre-arranged at least 2 business days in advance by calling
609-884-5404 (press 0)
HISTORIC DISTRICT TROLLEY TOUR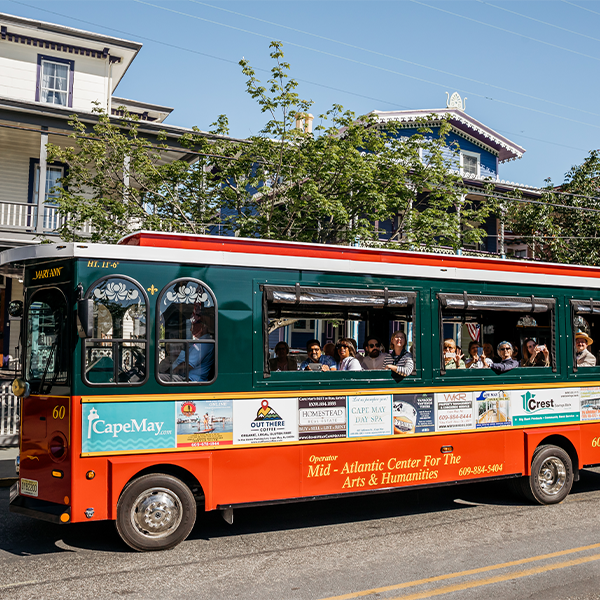 Known as the "Queen of the Seaside Resorts" for its quaint Victorian cottages and pristine beaches, Cape May is the oldest seaside resort in the country, and in 1976, the entire city was declared a National Historic Landmark. Possessing one of the country's largest collections of 19th century seaside wood framed buildings, the historic district features a variety of styles of Victorian architecture. It's beautiful. It's charming. Wonderful tour guides will explain Cape May's history and architecture and how and why it has survived and thrives to this day. This narrated tour travels through portions of Cape May's historic district. Guides discuss the architecture and history of the area. Offered year-round either separately or as combo tours. Begins and ends at the Ocean Street trolley stop.
WELCOME TO CAPE MAY TROLLEY TOURS
This is the best introduction to Cape May for first timers and also for those who haven't been to Cape May in some time. Find the hidden gems and the little-known treasures of this glorious seaside town and learn about natural and cultural points of interest. This narrated tour highlights the many cultural, historical and natural attractions on the island. Begins and ends at the Ocean Street trolley stop.
CAPE MAY'S MARITIME COMBO TOUR
Whaling, wartime and wild weather. The remarkable maritime history of our seaside town has long defined the Cape May story. Board the trolley and rediscover the important places and natural phenomena that have shaped, literally and figuratively, the Cape May we know today. The trolley then stops at Fisherman's Wharf for an up-close walking tour about Cape May's commercial fishing industry on the docks at The Lobster House. Tour begins and ends at Washington Street Mall Information Booth. Tour is not accessible.
UNDERGROUND RAILROAD TROLLEY TOUR
Cape May was part of the Underground Railroad and this trolley tour tells of those dangerous days. Slaves fled their chains in Maryland, Delaware and Virginia and braved strong currents and stormy seas, guided by the beacon at the Cape May Lighthouse. Hear how legendary anti-slavery fighter, Harriet Tubman, walked these streets, as did prominent railroad businessman and former slave, Stephen Smith, whose railroad cars carried hundreds to freedom. Trolley tour co-sponsored by Center for Community Arts (CCA) and Cape May MAC. Begins and ends at the Washington Street Mall Information Booth and travels through parts of Cape May and West Cape May, with stops along the way, including the Mt. Zion Cemetery.
MANSIONS BY THE SEA TROLLEY TOUR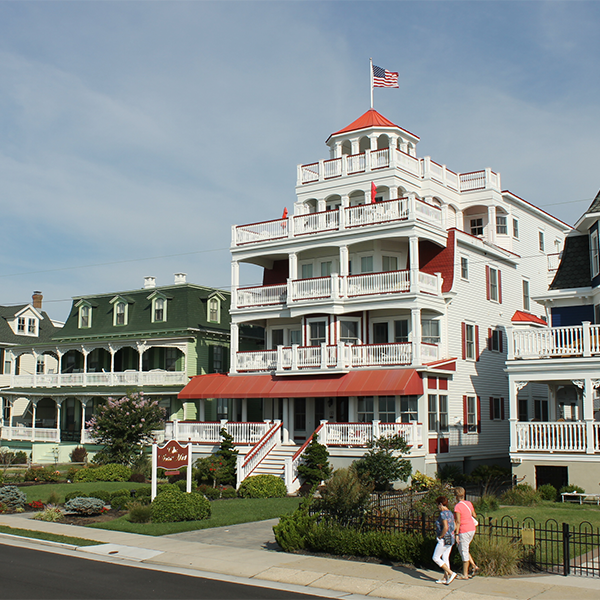 You'll hear how the rich lived in the early 1900s in the most elegant part of town on this trolley tour that includes the eastern beachfront. You'll see the broad streets and massive plots on Cape May's east side – an area marketed as "New Cape May" at the turn of the 20th century. Today, new, beachfront second homeowners have continued the tradition, running the gamut from the mere wealthy to the fabulously rich. This narrated tour travels along Beach Drive through the early 20th century East Cape May Development areas. Guides discuss history and architecture. Begins and ends at the Ocean Street trolley stop.
GHOSTS OF CAPE MAY TROLLEY TOUR
What was that shadow? Was it the undead of Cape May's past wandering their beloved haunts? You might scoff, you might shudder, but rest assured: on board a trolley with an experienced guide you will begin to wonder what's beyond when you hear the tales of hauntings unearthed in Cape May by renowned psychic medium and author Craig McManus. Begins and ends at the Ocean Street trolley stop.
COMBINATION
TROLLEY/PHYSICK ESTATE TOUR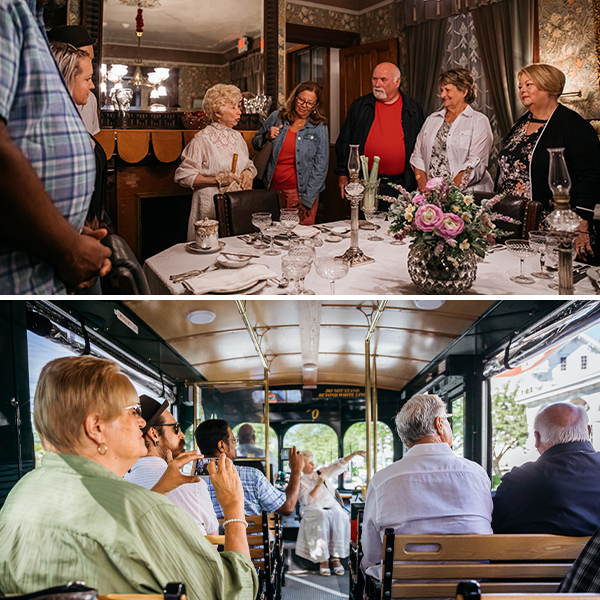 This immersive, 2-hour tour experience combines a guided tour by trolley of Cape May's Historic District with a guided tour of the Physick House Museum, providing an in-depth look into Cape May history and architecture. Learn why Cape May is the only National Historic Landmark City in the nation as you appreciate the details of Cape May's unique Victorian streetscapes via trolley. Take a guided tour of the first and second floors of the 1879 Physick House Museum, for a detailed look at Victorian architecture and the period. Built in 1879, the 18-room mansion is an architectural masterpiece built by famed American architect Frank Furness and one of the best examples of Victorian Stick Style architecture in the country. The tour includes a visit to the Carriage House Carroll Gallery Exhibit and begins and ends at the Ocean Street Trolley stop.
Tour tickets for this tour are not available for online purchase. Click the link below to find out where to purchase tickets.
CAPE MAY'S FORGOTTEN SPORTS HISTORY
TROLLEY TOUR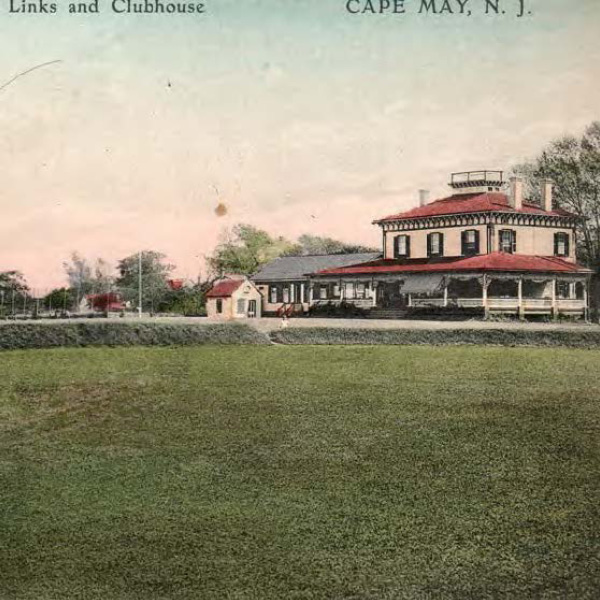 Cape May's history includes some fascinating stories about sports, such as baseball, tennis and golf, during the 19th and early 20th century. Take this trolley tour around Cape May and see where audiences once cheered on their favorite players of yesteryear. Learn about the teams, ballfields, courts and greens that were a vibrant part of America's First Seaside Resort.