We Take the Trouble Out of Touring!
Group options for motorcoach groups, private family & friend groups, and intimate private groups.
When you're planning a day trip to Cape May, NJ, Cape May MAC offers you a one-phone-call solution.
All tour offerings are interchangeable and all of the sample tour experiences can be customized to fit your schedule and needs. Group leaders, tour operators and travel agents receive V.I.P. treatment. Any season of the year, we can pull it all together for you. Let us arrange your visit to Cape May with tours, meals, shows, theater, boat tours, nature tours and much, much more!
Cape May MAC won the American Bus Association's 2022 Best of the Best Award in the culture category! Winning attractions represent the diversity and character of the U.S. and will motivate you to learn and experience new things.
Read more.
We welcome private groups of all sizes.
Our City Guide Tours can accommodate 2-8 guests on our golf-carts; our walking tours and Physick Estate House Tour can accommodate 6-18 guests and for larger groups of 20 or more we offer a variety of trolley tours and step-on guide options.
Advance reservations are required.
The 1879 Emlen Physick Estate
The Emlen Physick Estate is Cape May's only Victorian house museum. A visit to this beautifully restored mansion provides a glimpse into the Victorian lifestyle. The Carriage House is home to the Carroll Gallery with its changing exhibits and the Museum Shop. 
MSN picks the 1879 Emlen Physick Estate for New Jersey's "This is the Most Beautiful Building in Your State."
The 1859 Cape May Lighthouse
The Cape May Lighthouse is located in Cape May Point State Park, one of the world's premier birding spots. The tower is both a museum of maritime history and a working lighthouse. A climb up its 199 steps offers a breathtaking view of the Cape. 
The 1942 World War II Lookout Tower
The World War II Lookout Tower tells the story of Cape May's integral role in homeland defense during the war. No tour is complete without a visit to the Wall of Honor dedicated to local veterans and the All Veterans Memorial. 
Trolley Tours
Our trolleys provide a variety of day and evening narrated tours through Historic Cape May. Visitors can learn about its unique architecture and colorful history, its paranormal activity, its role in the Underground Railroad, the Native American tribes who inhabited this land, the whaling industry and farming or enjoy a front row view of Cape May's holiday decorations. 
Vintage
Vintage, the on-site restaurant at the Emlen Physick Estate, creates a modern, eclectic, and delicious dining experience. Vintage is dog-friendly with plenty of outside seating.
For intimate groups only.
Step-on Guide Tours
A Cape May MAC guide can step aboard your bus and accompany your group on an informative and entertaining tour. 
• Cape May Point 
• Natural Habitats 
Why Groups Love Cape May
"Thanks to you and the MAC team for making the 8/06 Trolley tour a wonderful memory for our guests.  All enjoyed the ride and the tour guide stories. We thank you for making this experience possible for our wedding anniversary!"
–Kevin and Sheila, North Cape May
Cape May ranked 4th of "55 Most Beautiful Small Towns in America" (2022) by Architectural Digest

MSN picks the 1879 Emlen Physick Estate for New Jersey's "This is the Most Beautiful Building in Your State."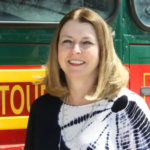 We sat down with our Group Tour Manager, Sue Gibson, to learn more about why groups love visiting Cape May. Click here to read our Q&A.
Cape May MAC is a Proud Member of these Organizations