We Take the Trouble Out of Touring!
Group options for motorcoach groups, private family & friend groups, and intimate private groups.
Cape May MAC (Museums + Arts + Culture) considers the City of Cape May, with its unparalleled collection of Victorian era buildings, a museum without walls. When you're planning a day trip to Cape May, NJ, Cape May MAC offers you a one-phone-call solution.
All tour offerings are interchangeable and all of the sample tour experiences can be customized to fit your schedule and needs. Group leaders, tour operators and travel agents receive V.I.P. treatment. Any season of the year, we can pull it all together for you. Let us arrange your visit to Cape May with tours, meals, shows, theater, boat tours, nature tours and much, much more!
We welcome private groups of all sizes.
Our City Guide Tours can accommodate 2-8 guests on our golf-carts; our walking tours and Physick Estate House Tour can accommodate 6-18 guests and for larger groups of 20 or more we offer a variety of trolley tours and step-on guide options.
Advance reservations are required.
Featured Tours: Christmas in Cape May
This seaside town is transformed into a Dickens village for the holidays with garlands of fragrant greens and twinkling gaslights. Wrap yourself in the warmth of holiday spirit and sample a seemingly endless variety of Holiday events.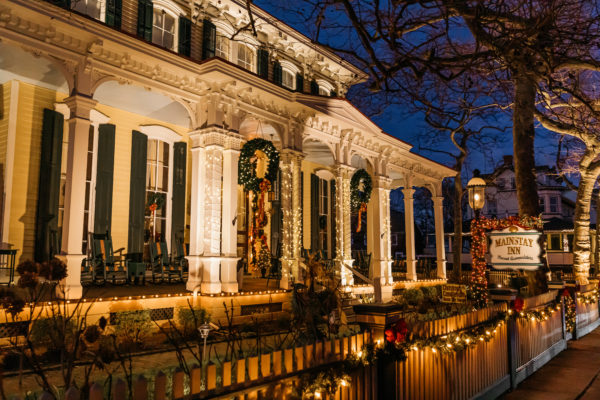 All That Glitters Combination Tour: Victorians ring in a new century!
The year is 1899.  A dear friend of the family has volunteered to help with the final preparations for the very important New Year's Day Celebration.  She wants to consolidate a shopping trip for the necessities to avoid making numerous trips.  Join her as we travel through town making plans for this important endeavor, and then we will go to the Physick Estate to meet the family as they prepare the house for the holidays.
Holiday Lights Trolley Rides
Who can resist the twinkle of Cape May's beautiful Victorian homes decorated for Christmas? This trolley ride through the historic streets of Cape May is a delight. Listen to Christmas music and enjoy hearing about the history of many of the Christmas traditions of today. Victorian Cape May is outstanding at Christmas and this is a ride to share with friends and family to revel in Cape May's Christmas spirit.
Holiday Inns Tour
Get into the Christmas spirit as you tour three of Cape May's festively decorated Bed & Breakfast Inns and private homes.
Lamplighter Christmas Tour
Enjoy an evening tour of four of Cape May's finest B&B inns and private homes, decorated for the holidays. Includes "An Old Fashioned Christmas" exhibit at the Physick Estate Carroll Gallery.
Ghosts of Christmas Past Trolley Tour
Listen to dramatic tales of Christmas woe featuring Victorian ghosts, told by a member of the East Lynne Theater Company, on this ride along the historic streets of Cape May. You'll be happy you live now, not then.
Why Groups Love Cape May
We sat down with our Group Tour Manager, Sue Gibson, to learn more about why groups love visiting Cape May. Click here to read our Q&A.
Cape May MAC is a Proud Member of these Organizations