Why be a Cape May MAC volunteer?
Volunteering at Cape May MAC allows you to meet new people and make a contribution in helping the Cape May region thrive. Cape May MAC is one of New Jersey's leading cultural and heritage organizations.
Whether giving out information at our festivals, offering skills as a volunteer in our offices, or taking tickets at our Music Festival or other events, your time and talent have a huge impact in helping carry out our preservation, interpretation and cultural enrichment missions!
Volunteer Opportunities
Marketing and Communications Volunteer Positions
Benefit House Tour Volunteer Positions
Curatorial Volunteer Positions
Grounds and Maintenance Volunteer Positions
Special Events Volunteer Positions
Museum Education Volunteer Positions
Hospitality Volunteer Positions
Volunteer Benefits
10% Discount at Cape May MAC Museum Shops
Significant discount on Cape May MAC membership dues
Invitation to exhibit openings and lectures
Volunteer Recognition Reception and Awards
Those who achieve Platinum (150 hours or more) Gold (100 to 149 hours) or Silver Awards (50 hours to 99 hours) receive free admission to a variety of tours, including Crafts & Collectibles Shows and the Cape May Music Festival Concerts.
Become a Cape May MAC Volunteer
Once you submit your contact information, you will receive an email response from our Volunteer Engagement Manager, Kelly Redington, to learn more about the next steps in volunteering at Cape May MAC!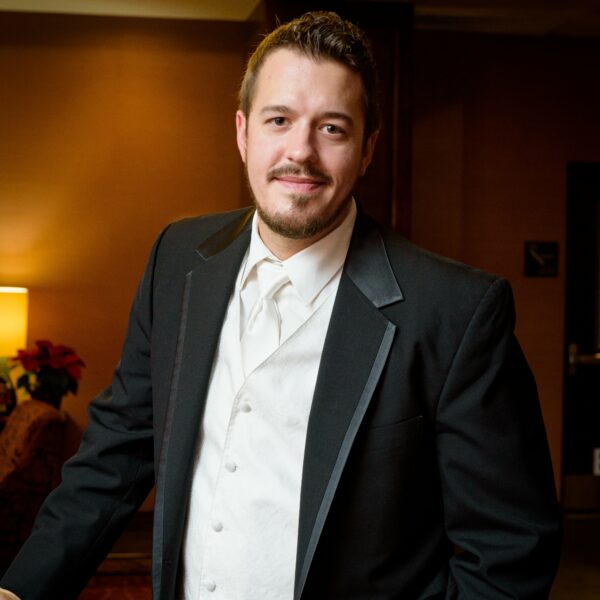 October 2021
Ben Ross
Ben Ross, of North Cape May, N.J., is the Cape May MAC (Museums+Arts+Culture) Volunteer of the Month for October. Cape May MAC Director and CEO Jody Alessandrine nominated Ross for his volunteer work over the last several years helping the organization complete carpentry projects at Cape May MAC's historic sites. This summer Ross used his carpentry skills to build a shelter on the grounds of the Cape May Lighthouse — a shelter that will house a new ticketing kiosk at the historic site. "Ben was given historic drawings of the original privy at the lighthouse and came up with a design for the new kiosk," Alessandrine said. "His design and final work exceeded all expectations. The completed shelter is an artistically accurate representation that blends well with the aesthetic of the property. Ben has been so very generous with his carpentry skills, and his time and talent, and we appreciate all he has done so very much."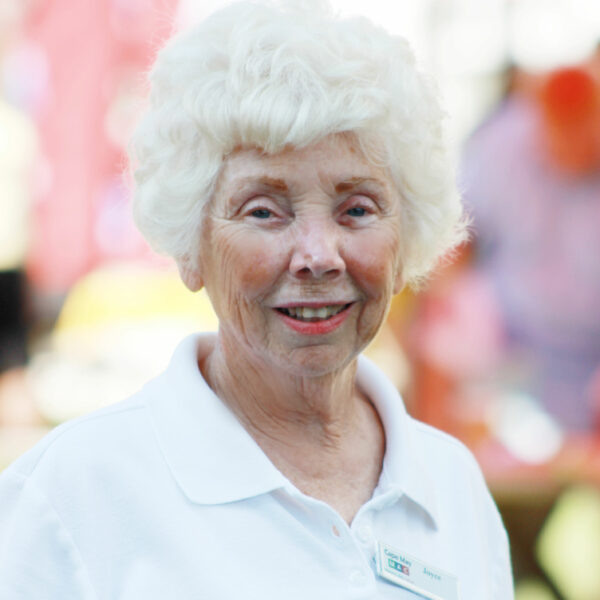 September 2021
Joyce Barth
Joyce Barth, of Wildwood Crest, N.J., is the Cape May MAC (Museums+Arts+Culture) Volunteer of the Month for September. Cape May MAC Director of Tour Operations Nanci Coughlin nominated Barth for going above and beyond as one of Cape May MAC's most recognized and experienced guide staff. Coughlin said she relies on Barth in many different ways, but truly appreciates both her breadth of knowledge and her can-do attitude, even at the last minute. As someone who knows most of Cape May MAC's dozens of tours, Joyce commands a volume of knowledge that is truly remarkable and offers to cover more empty shifts than anyone on staff, Coughlin said. When the pandemic hit in 2020, Barth took on many extra shifts. She not only covered many of the organization's tour shifts but volunteered her time for a substantial portion of those shifts. "Joyce is such an asset to the organization," Coughlin said. "But more than that, she is a wonderful person, beloved by her colleagues and by customers who have the privilege to enjoy her lead a tour. We are so grateful to Joyce for all she does and for her interpretive style and expertise, and for going above and beyond to help us achieve our mission."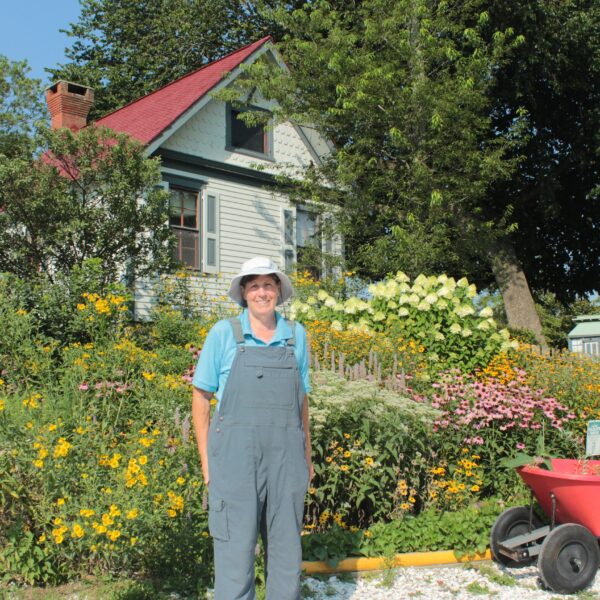 August 2021
Jan Dwyer
Jan Dwyer, of West Cape May, N.J., is the Cape May MAC (Museums+Arts+Culture) Volunteer of the Month for August. She was nominated for the honor by Cape May MAC Volunteer & Membership Engagement Manager Kelly Redington, for lending her skill and expertise in gardening to beautify and maintain the estate grounds and for opening her own home garden to the public during this year's Gardens of Cape May Tour June 12. "Like many of our Physick Estate grounds volunteers, Jan dedicates a considerable amount of time to keeping the estate beautiful, with her focus being the Hill House pollinator garden featuring indigenous plants," Redington said. "Additionally, Jan's West Cape May home was part of the June 12 Garden Tour this yera, and in the weeks leading up to the tour she had to get her own garden ready as well as the garden here at the estate. She worked closely with another volunteer to prepare them to answer any guest's questions. We are so very grateful for the dedication and gardening knowledge Jan brings to Cape May MAC, that brings such beauty and joy to our visitors.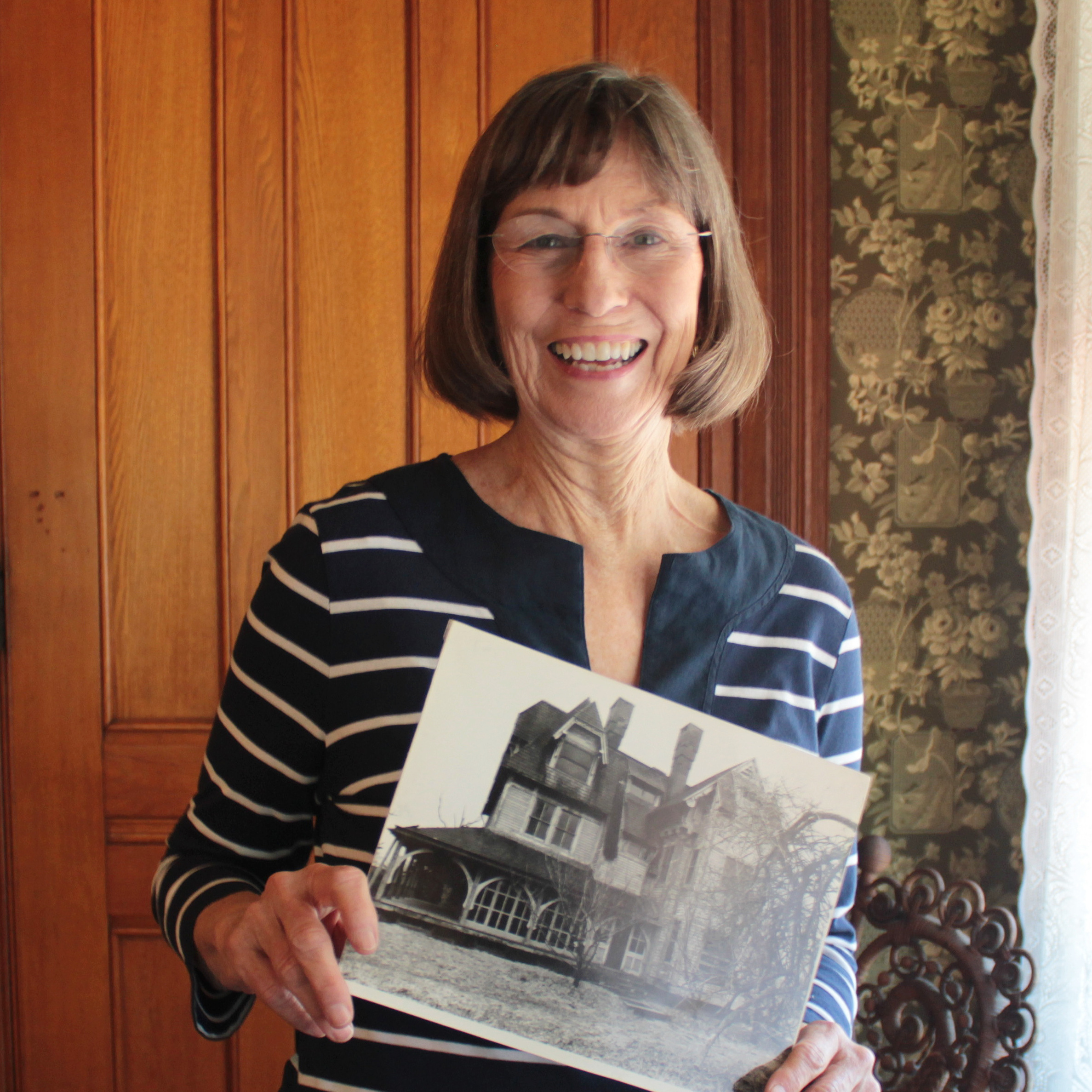 July 2021
Sue Carroll
Shown here, holding one of the archival photos she is helping organize, is Sue Carroll, of Cape May, N.J., the Cape May MAC (Museums+Arts+Culture) Volunteer of the Month for July. She is recognized for her work on the Cape May MAC Archiving Project, and was nominated for the honor by Janet Coupland, manager of the project and a member of the organization's Board of Trustees. The project began in 2020 and aims to professionally archive 51 years of Cape May MAC documents and artifacts. It is such a monumental effort that it is proceeding in phases. Carroll has already volunteered hundreds of hours. She is in a unique position to be helpful to the project as she is a witness to much of the organization's history from its very beginning. "Not only does her knowledge make her invaluable, Sue is willing to 'roll up her sleeves' and work on all aspects of the project, including digging through hundreds of boxes of files, sorting thousands of slides, photos and negatives, and labeling and sorting piles of material," Coupland said. "Sue is an amazing volunteer. She always has a smile and a willingness to do whatever is needed. She is a great team member, and we could not have undertaken this complex and important project without her. We appreciate so much all that she has accomplished and her continued dedication to the effort."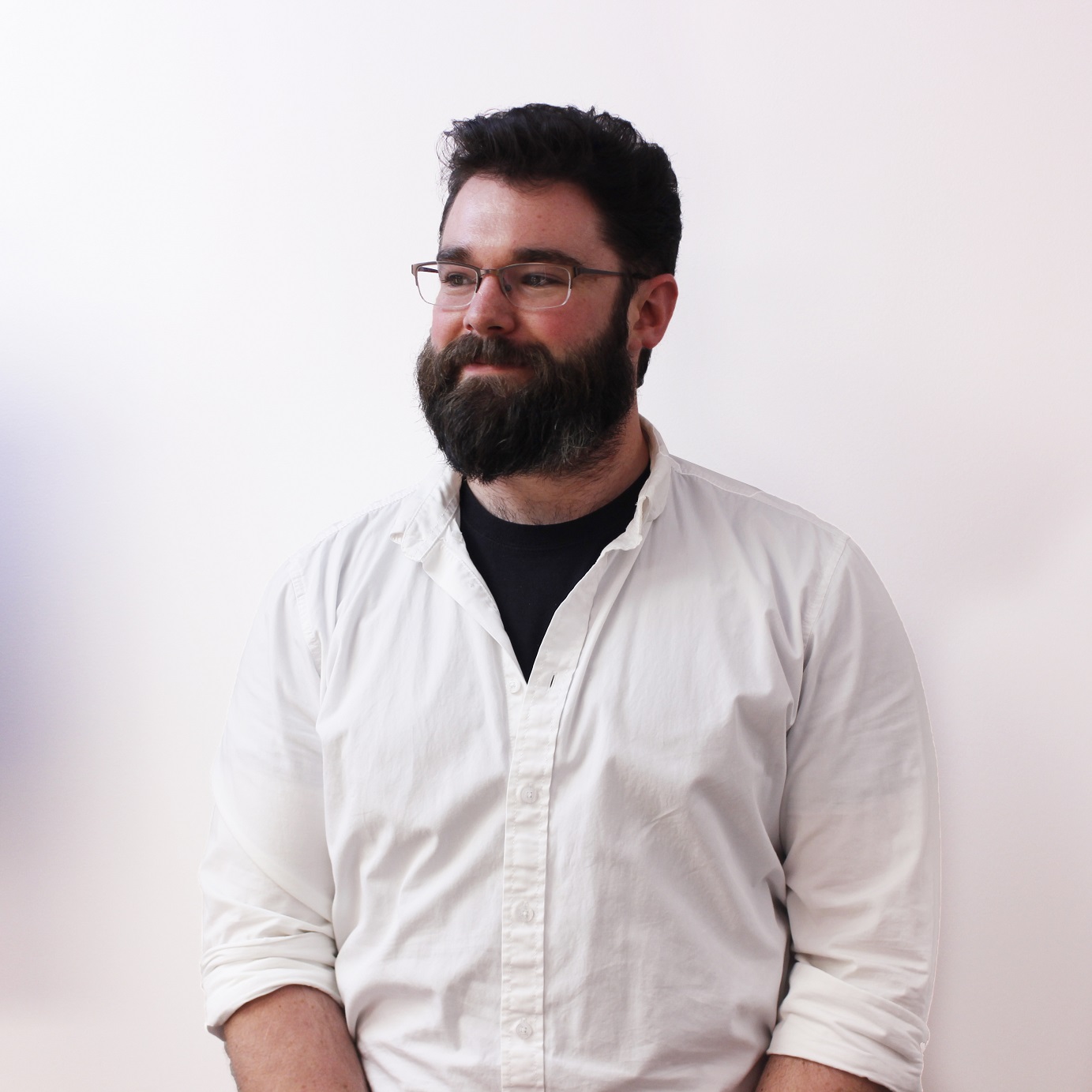 June 2021
Craig Coughlin
Craig Coughlin, of Little Falls, N.J., is the Cape May MAC (Museums+Arts+Culture) Volunteer of the Month for June. Craig was nominated by Cape May MAC Director of Tour Operations Nanci Coughlin. Craig is Project Manager and Digital Infrastructure Manager for the architecture firm JAM Arch in Fairfield, N.J. He used his skills and experience to create an architectural rendering for the new Cape May Lighthouse Brick Program, a Cape May MAC program in which members of the public can now purchase engraved bricks along the pathway on the lighthouse grounds. "As Craig's mom, I knew he would be willing to help us out by creating the necessary drawings for the project," Nanci said. "Having grown up in Cape May, with a mom who has worked for Cape May MAC for many years now, Craig was always helping us out in one way or another, and at one time worked as a Lighthouse Keeper. Now of course, he has a career of his own, but thankfully he is always willing to say 'Yes' when his mother asks him for a favor." Director and CEO Jody Alessandrine said family are a vital force at Cape May MAC. "We are fortunate as a non-profit organization to have so many dedicated staff and their family members who, through sharing their expertise and generosity, expand our knowledge base. Thank you, Craig, for your excellent work."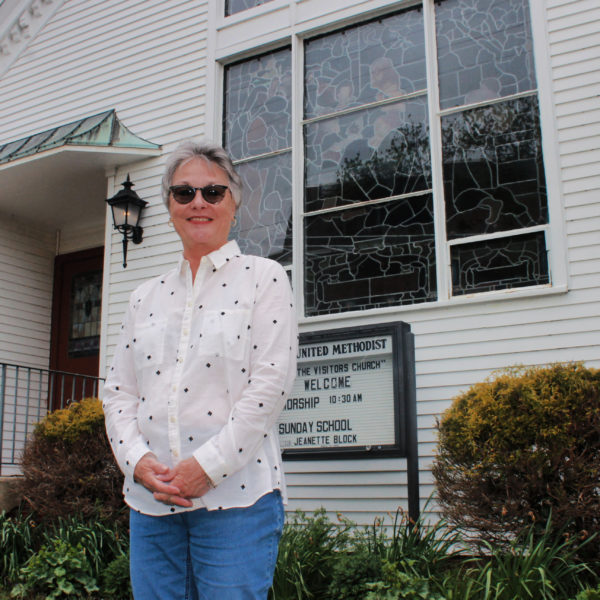 May 2021
Rev. Jeanette Block
Rev. Jeanette Block, of Cape May, N.J., shown here at Cape May United Methodist Church where she is pastor, is the Cape May MAC (Museums+Arts+Culture) Volunteer of the Month for May. She was nominated for the honor by Cape May MAC Chief Outreach Strategist Mary Stewart for her ongoing support of the organization. "It's our way to honor and thank her for her time on the Cape May MAC Volunteer team, graciously making sure we always had access to Lyle Hall and being a strong and consistent advocate for the organization and volunteers," said Stewart. Block has been a staunch supporter of the organization since she began as pastor of the church in July 2015, graciously allowing the organization continued access to the church's meeting space, Lyle Hall, for pot-luck staff dinners, staff and volunteer training and orientations, and for the popular Lunch & Learn lectures Cape May MAC offers throughout the year. Rev. Block will be retiring as pastor of the church on June 27.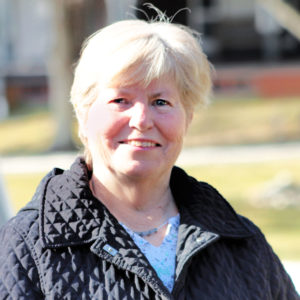 April 2021
Anna Leeper
Anna Leeper, of Wildwood, N.J., is the Cape May MAC (Museums+Arts+Culture) Volunteer of the Month for April. She was nominated for the honor by Outreach Manager: Volunteer & Membership Engagement Ayeshah Dickerson. "Anna came up with the idea to organize a food drive to benefit the Cape May Community Food Closet during the winter when so many in the community are in need from the pandemic. We held a Presidents Day Cape May MAC food drive at the Physick Estate and collected close to $800 in food and other necessary household items along with additional monetary donations of $426. We really appreciate Anna for this and for all the work she does for the organization and the community." The food drive was held at the Emlen Physick Estate, 1048 Washington St., Cape May. Cape May MAC has public tours and events open to the public now.
March 2021
Ayeshah Dickerson
Ayeshah Dickerson, of Wildwood Crest, N.J., is the Cape May MAC (Museums+Arts+Culture) Volunteer of the Month for March. Director of Media Relations Susan Krysiak nominated Dickerson for the honor, for her help with a video project Krysiak managed in November and December. "Ayeshah helped me when I was in a real pinch," said Krysiak. "We were creating a video for sale – a Cape May Virtual Christmas Candlelight House Tour – because COVID-19 meant we couldn't offer this popular tour in person. Then, in the early days of shooting, I took over as videographer out of necessity, which meant finishing production on my own. Ayeshah jumped in to help, worked with the property owners and handled rescheduling with grace, helped me with production on-site, and was absolutely critical to keeping the project on track. We could not have done it without her." Dickerson was and still is Cape May MAC's Manager of Volunteer Engagement and is taking on new responsibilities for the organization in marketing and membership in 2021.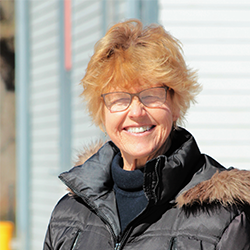 February 2021
Eunice Hudzik
Assistant to the Director Anna Leeper nominated Eunice Hudzik for the honor of Volunteer of the Month for February 2021. Hudzik is a trained interpreter for Cape May MAC tours but has volunteered to help outside of that role with the annual "An Old-fashioned Christmas Exhibit" on display each Christmas in the Carroll Gallery at the Carriage House on the grounds of the Emlen Physick Estate, 1048 Washington St., Cape May. Hudzik has volunteered since 2017 by helping to take down the exhibit after New Year's Day, a monumental task. This past year she volunteered her time to take it down and also to help set it up in time for the holidays. "Over the years that Eunice has volunteered, she has been a part of any and all of the elements that make this such a popular exhibit for our residents and visitors," said Jean Barraclough, who created the exhibit. Leeper recognizes Hudzik for going the extra mile at a time when the organization was especially in need of volunteer help. "Eunice was willing to pitch in and do what was needed to help make this year's exhibit as wonderful as it always is, volunteering all her time. We really appreciate her hard work and dedication to Cape May MAC."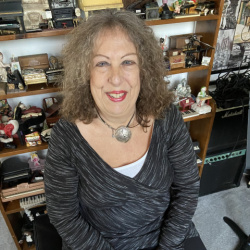 January 2021
Lisa Jurewicz
Lisa Jurewicz of North Cape May, N.J. is the Cape May MAC (Museums+Arts+Culture) Volunteer of the Month for January 2021. Cape May MAC Chief Outreach Officer Eliza Lotozo nominated her for the honor in thanks for playing music during two holiday crafts and collectibles shows at the Emlen Physick Estate, 1048 Washington St., Cape May. Jurewicz, known as "Mrs. J" from her many years as a professional music teacher, offered her time and talent during the Thanksgiving Crafts & Collectibles Show on Nov. 28, and the Holiday Crafts & Collectibles Show on Dec. 6, playing holiday musical favorites to entertain visitors. "Mrs. J is so community-minded," said Lotozo. "She volunteered to do this for us and play music in our gazebo during these outdoor shows this holiday season, and we really appreciate it. Her music added so much joy and festivity to the event. We are very grateful to her for volunteering her time and talents for the enjoyment of our visitors."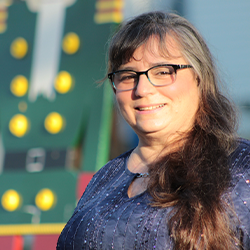 December 2020
Cathy Baldacchini
Manager of Volunteer Engagement Ayeshah Dickerson nominated her for the honor. Baldacchini is Cape May MAC's Information Technology (IT) Manager. She stepped outside her usual role and volunteered to manage Scarecrow Alley this past fall and in coming years. Community members construct homemade scarecrows displayed in October on the grounds of the Emlen Physick Estate, 1048 Washington St., Cape May. Cathy stepped in to take over managing the project, managing applications, planning grounds layout and coordinating with participants to mount their scarecrows. "Cathy took on this role during a difficult year for everyone," said Dickerson. "She has a real creative streak and is a talented crafter and creator, so this was a natural for her. She brought all that creativity and energy to make Scarecrow Alley another great success in 2020. We are so grateful to her for going above and beyond and helping us further our mission in the community."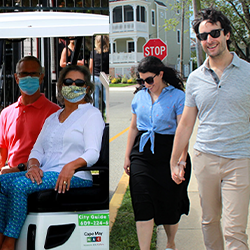 November 2020
Bob, Carole, Ben and Elena Irwin
Director of Media Relations Susan Krysiak nominated them for the honor, for their enthusiastic participation as volunteer models in a recent video shoot by videographer Tom Grayson, which captures what it's like to take one of Cape May MAC's new City Guide Golf Cart tours around Cape Island. "The Irwins made this long morning video shoot so much fun and productive," said Krysiak "They were easy-going and helpful, spending a good few hours riding around to Cape May's historic sites and locations, to capture footage and photos to promote this new tour offering. As a non-profit, our goal is always to be as efficient as possible. Our volunteers truly make that possible, and we rely on them in so many ways. This is one more way that Cape May MAC volunteers can pitch in and help out. We are so glad for their support, and we greatly appreciate them."