November 20, 2020 through January 1, 2021
What better place to get into the true spirit of Christmas than Victorian Cape May? This seaside town is transformed into a Dickens village for the holidays with garlands of fragrant greens and twinkling gaslights. Wrap yourself in the warmth of holiday spirit and sample a variety of fun tours and events.
Christmas Candlelight House Tours
Due to the COVID-19 pandemic, we have made the difficult but necessary decision to not hold our annual Christmas Candlelight house tours in 2020. We are still offering many fun & exciting holiday tours & events, including some new experiences!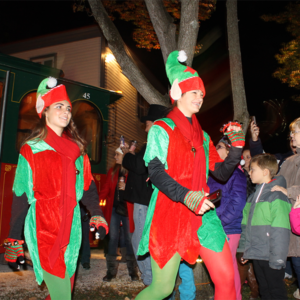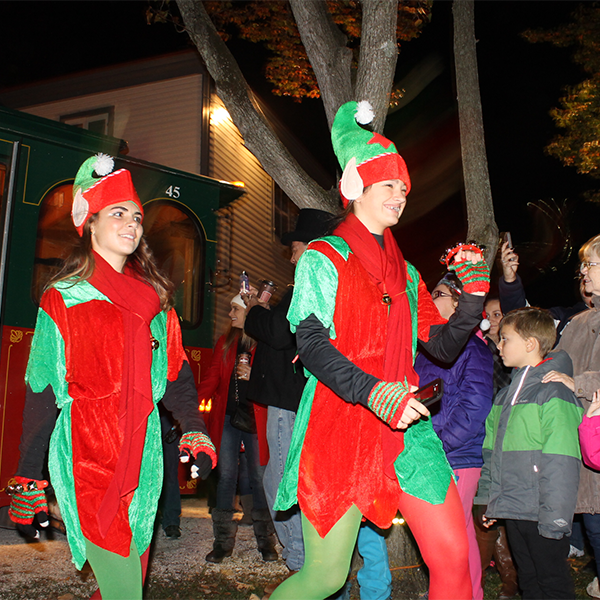 HOLIDAY TREE-LIGHTING CEREMONY
Kick-off the Holiday season!
November 21, 2020
Santa and his elves have decked out the Physick Estate with thousands of lights and holiday trimmings. Enjoy a free performance of holiday classics by the Atlantic Brass Band as we join Santa in lighting the tree!
Registration required.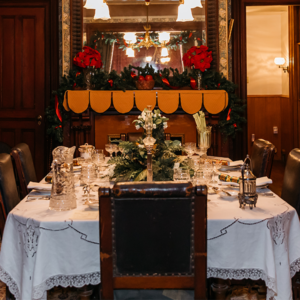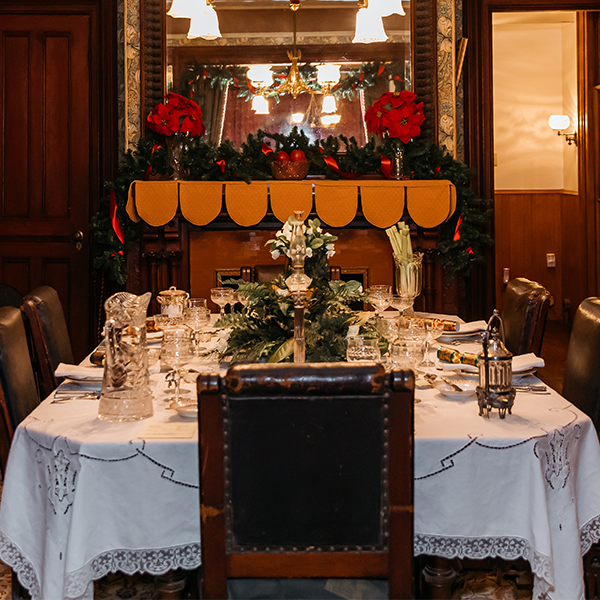 PHYSICK FAMILY CHRISTMAS HOUSE TOUR
This 1879 Victorian house museum sparkles for the holidays with authentic Victorian decorations that invite you to step back into Christmas past! On the Physick Family Christmas House Tour, you will visit the Physick Estate, decorated in true Victorian style, for a unique living history experience with members of the Physick Family household of the 1890s. Also see the "Old-Fashioned Christmas" exhibit at the Carroll Gallery at the Carriage House, a breathtaking Dept. 56 Dickens Village beneath the boughs of a giant Christmas tree.
Adults: $15; Children (3-12): $8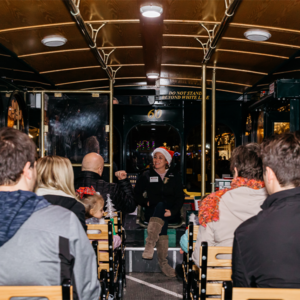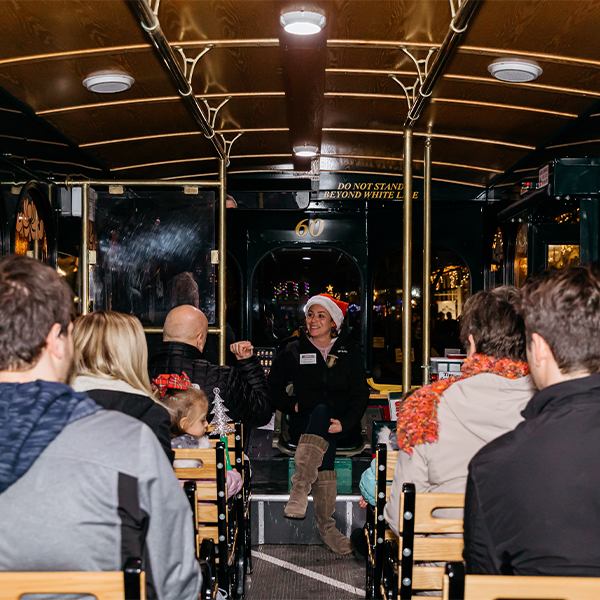 HOLIDAY LIGHTS TROLLEY RIDES
Various dates & times
Ride through Cape May's Historic District to see festively decorated inns and homes as guides talk about Victorian Christmas traditions, lead sing-alongs, and play Christmas music.
Advance reservations are strongly recommended.
Trolleys are open-air, please dress accordingly.
Adults: $15; Children (3-12): $10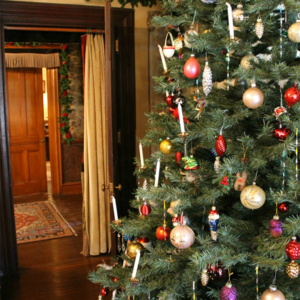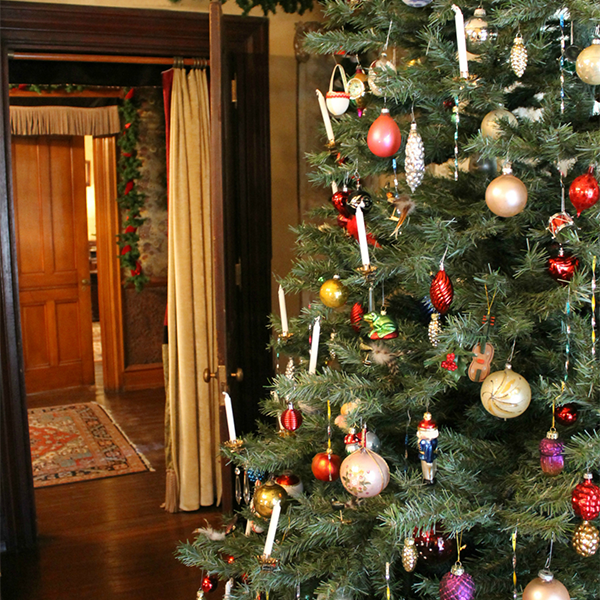 EVENING YULETIDE HOUSE TOUR
Take a 30-minute guided tour of the first floor of Cape May's 1879 Emlen Physick Estate, decorated in authentic style for a Victorian Christmas. See how the Physick family would have entertained for the holidays. Afterwards, visit the Carriage House for a visit to "An Old-Fashioned Christmas" exhibit.
Adults $20; Children (3-12) $18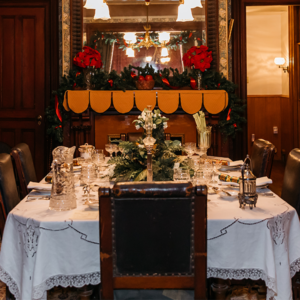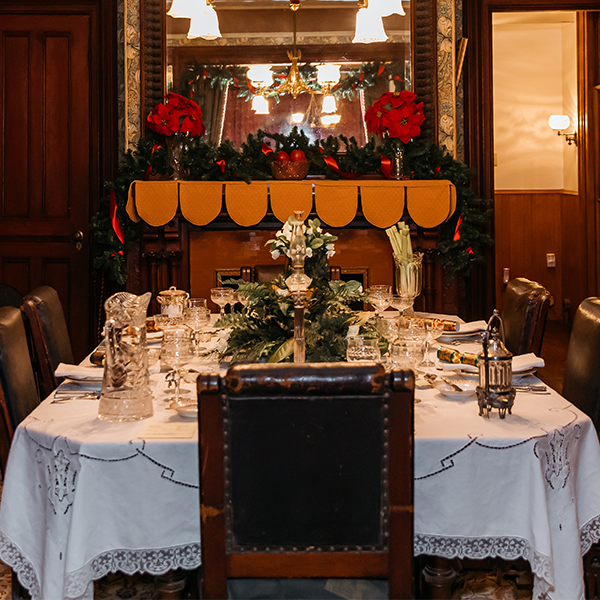 A DR. PHYSICK CHRISTMAS TOUR
Dr. Physick welcomes you to his home. Christmas is a wonderful time of year to come to Cape May and the Emlen Physick Estate is decorated to the nines! In this first person tour, Dr. Physick walks guests through his home, pointing out Victorian decorations and telling stories of his family and friends at Christmas.
Adults $15; Children (3-12) $8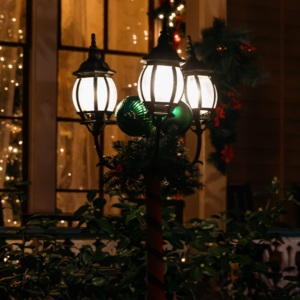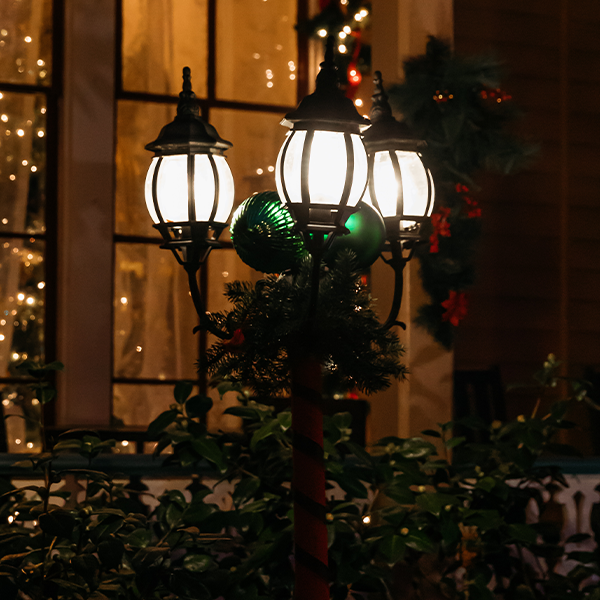 LAMPLIGHTHER CHRISTMAS WALKING TOUR
A man.  A lamp.  A mystery.
As the holidays unfold in the seaside escape of Cape May, so too does a mystery.  Join the Lamplighter as he endeavors to solve it, and perhaps help him discover the clues along the way.  This immersive experience will make you a detective as you strive to solve the Lamplighter's mystery.
Adults: $35; Children (3-12): $28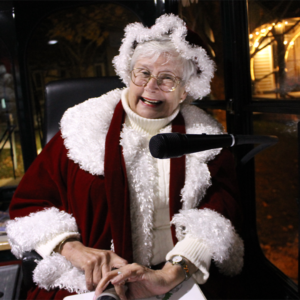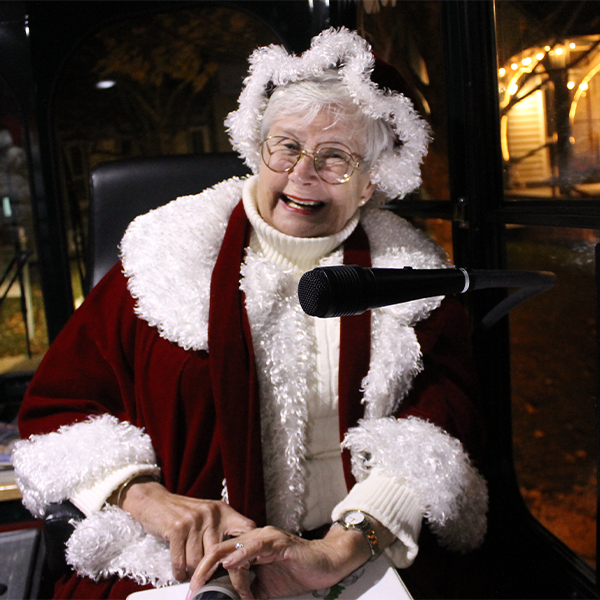 SANTA'S TROLLEY RIDES
Bring the kids to the Physick Estate on weekends for a ride around Cape May with stories and songs led by Mrs. Claus.  Santa will greet children with a sweet in the gazebo on the grounds of the Emlen Physick Estate. All rides start at the Emlen Physick Estate.
Adults $10; Children (ages 3-12) $8.
Advance reservations are strongly recommended.
Trolleys are open-air, please dress accordingly.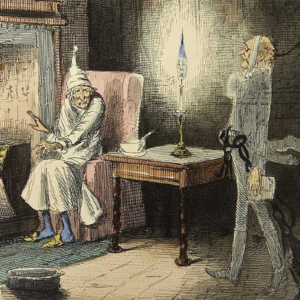 DICKENS OF A MURDER
At the Emlen Physick Estate
BAH! HUMBUG! Ebenezer Scrooge is known for his miserly, uncompassionate ways, but he's a changed man; he's been practically giving his money away! Scrooge's nephew, Fred Sawyer, is throwing a Christmas party and everyone is delighted by Scrooge's appearance!  But when things go awry and murder is for served for supper, the guests may just become detectives…or even suspects.  This Christmas party's a hoppin', but there's a murderer a knockin'! This evening will be a Dickens of a Murder!
Adults: $35; Children (3-12): $28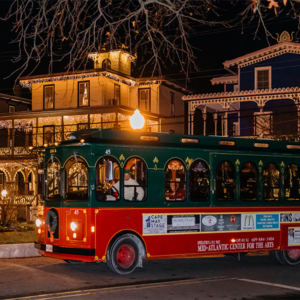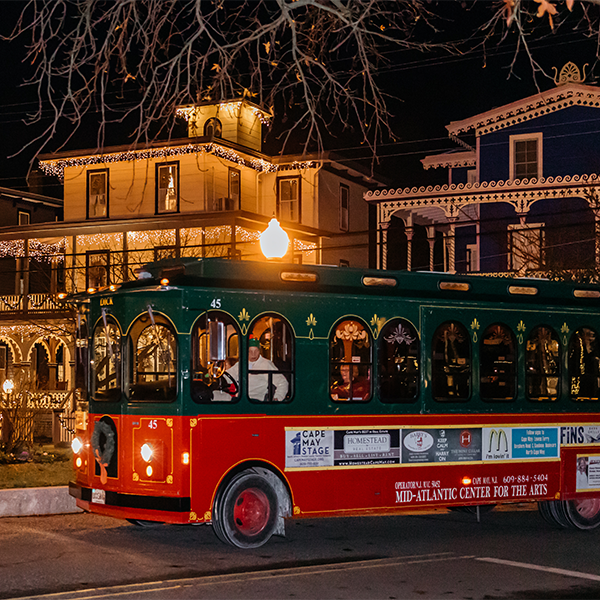 GHOSTS OF CHRISTMAS PAST TROLLEY RIDE
A member of the East Lynne Theater Company regales you with a Victorian holiday ghost tale as you ride through Cape May's festively decorated Historic District. Rides start at the Washington Street Mall Information Booth, except Nov. 21, when rides start at the Physick Estate.
Tickets $15 adults; $8 children (ages 3-12).
Advance reservations are strongly recommended.
Trolleys are open-air, please dress accordingly.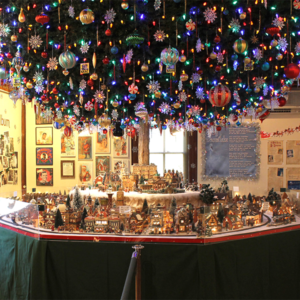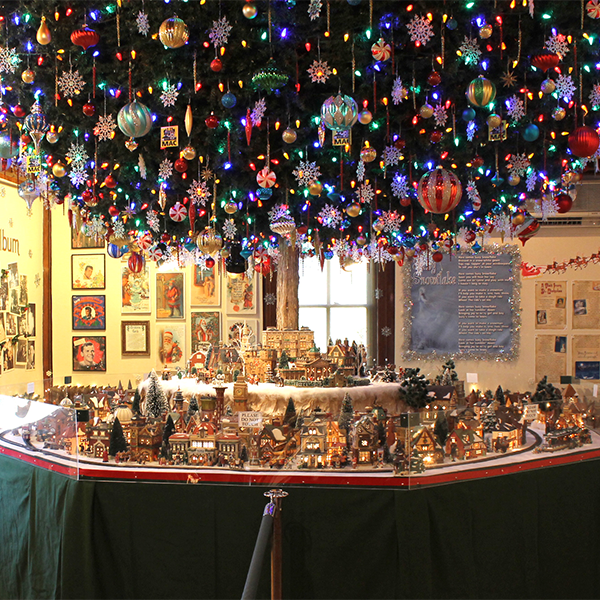 "AN OLD-FASHIONED CHRISTMAS" EXHIBIT
Enter a holiday wonderland and feel like a child again as you see our extensive Dept. 56 Dickens Village collection beneath the boughs of our giant Christmas tree. All this plus old family photos, trains and more. There's even a place to drop off your letters to Santa! Located at the Carroll Gallery in the Carriage House.
Emlen Physick Estate
1048 Washington St.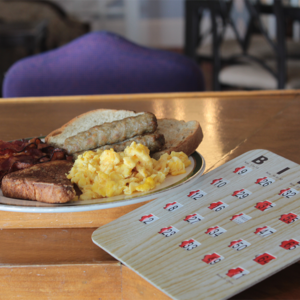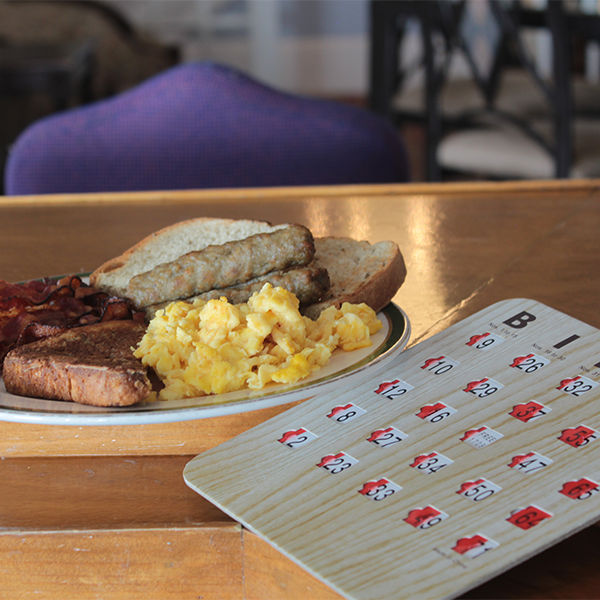 BRUNCH & BINGO AT THE BEACH
Saturday, Nov. 21
9:30 am
Inn of Cape May, 7 Ocean St.
C'mon, girls…this is all about you! Leave the kids and your significant other behind and join us for a morning of brunch, bingo and a fashion show just for you from the lovely ladies at Cape May's Lace Silhouettes and the Cotton Company.  You can win some great prizes and get free gift cards for these wonderful shops, too!
Tickets  $25
Watch Our Videos
*Videos were filmed pre-Covid-19 pandemic.
Old-Fashioned Christmas Exhibit
Decorating the Physick House Museum