Help us celebrate Museum Store Sunday!
On Sunday, November 27, 2022, more than 1,800 Museum Stores representing all fifty states, 24 countries, and five continents will offer relaxing, inspired shopping inside your favorite museums and cultural institutions.
Shoppers at Cape May MAC Museum Shops can scoop up Museum Store Sunday promotional giveaways and be entered to win the grand prize of a $75 gift card which can be used for membership, tickets, or on in-shop purchases. Orders over $25 will receive a free ornament. Existing Cape May MAC Members receive 10% off and will receive an additional 5% off on this day.
#museumstoresunday, #patronofculture, #shopmuseumstores
At the Carriage House Museum Shop at the Emlen Physick Estate
Special sales and discounts will be offered on select products throughout the day. Pick up our brand-new Cape May MAC trolley ornament to add to your tree, or a signed copy of our first published children's book, Dr. Physick's Dog Days of Summer for a young reader in your life. Illustrator Steven Olszewski will be on site answering questions about the book! A pop-up display will feature our new silk neckwear line inspired by design elements from within the Physick House Museum. A Cape May MAC spokesperson will be present to discuss the process of creating this unique neckwear.
At the Oil House Museum Shop at the Cape May Lighthouse
Special sales and discounts will be offered on select products throughout the day. Local author John Bailey will be signing copies of his book, The Sentinel, available for purchase.
CARRIAGE HOUSE
MUSEUM SHOP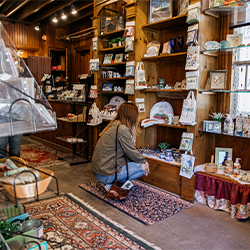 Carriage House at the Emlen Physick Estate
1048 Washington St.
Everything you need to relax in style with a warm and fragrant cup of tea. Bake up a fresh batch of scones with special mixes and add a dollop of clotted cream. Teapots, cups, Harney's Teas, accessories and more, plus jewelry, books and wonderful things for giving or keeping…
​For more information, call 609-884-5404

The Carriage House Museum Shop is fully accessible.