Solve the Mystery of Sherlock Holmes
& Hark! How the Bells!
A new mystery for 2020 by Emily Pruna
November  6-8
He sees you when you're sleeping.
He knows when you're awake.
If you try to run and hide,
You've made your last mistake.
John Watson and Sherlock Holmes are having trouble getting into the Christmas spirit when there is a killer on the loose. Someone knows too much and the killer, simply known as "Jack Frost," is leaving people cold in the streets and the night silent. Holmes must determine which person with a secret is willing to kill for it. Time is running out as the cold shadow of Jack Frost grows closer.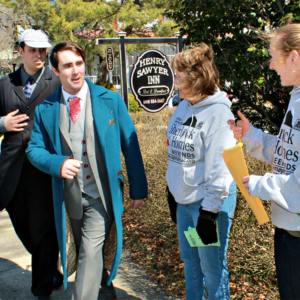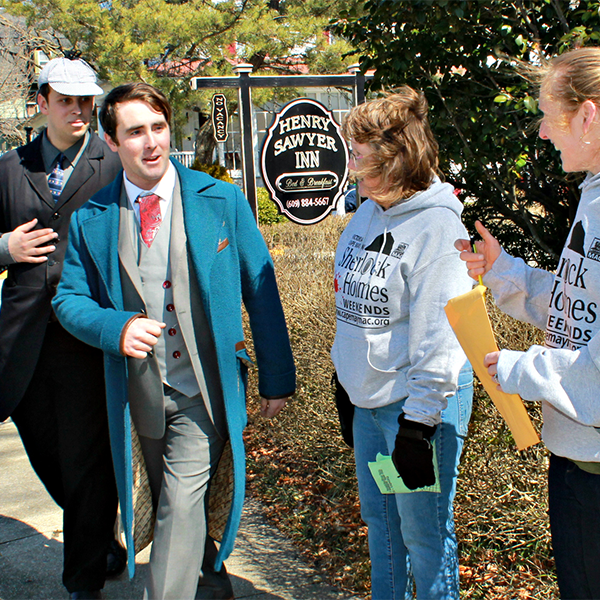 FULL WEEKEND EXPERIENCE
Full weekend packages are available at $115 per person.
Full Weekend Packages include the Welcome Reception, Search for Clues Tour, Performances and Lunch. Sherlock Holmes Weekend packages DO NOT include accommodations or the East Lynne Theater Company performance. The Full Weekend Package, including accommodations, starts at $618 (per couple) and also includes a dining certificate good at a selection of Cape May restaurants. See list below of participating accommodations and call 609-884-5404, ext. 1-115 for details.
FULL SCHEDULE
Friday Evening: 8:30pm
Coffee and Dessert Reception
Aleathea's at the Inn of Cape May
Join the great detective and his faithful assistant Dr. John Watson for the evening. It is here that the crime unfolds, and as Holmes says, "the game's afoot." A cash bar will be available. Registration begins at 7pm; seating begins at 7:30pm.
​
Search for Clues Tour
Saturday Afternoon: 1pm – 3pm
A self-guided tour of Bed and Breakfast Inns
How better to find the solution to this mystery than by visiting a selection of Cape May s Victorian treasures in a search for clues? Discover the clues and complete the answer sheet as you enjoy your self-guided tour.
The Game Continues
Aleathea's at the Inn of Cape May
Saturday Afternoon: 3:30-4:30pm
Why is Holmes drawn to this case? What are the larger ramifications of the case? Compare your findings to those of the famous detective. How are you faring in your search? Have you matched wits with Mr. Holmes or are you on track to become this year's clueless wonder?
​
Holmes Unlocks The Mystery!
Aleathea's at the Inn of Cape May
Sunday Afternoon: 12:30pm
Be seated at 12noon and enjoy a hearty lunch before Holmes and Watson reveal the solution. Is there a villian among us still? How well did you fare in your search? Once the mystery is solved, the winners will be announced and prizes awarded.